Solutions
Your Knowledge Partener- Customising Solutions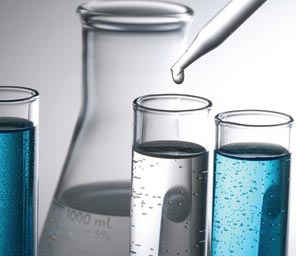 Leveraging our knowledge helps us to successfully develop new solutions for our customers in emerging fields of Textile wet processing. We work closely with customers to combine our collective expertise to design and implement new or better applications. Accent Biotech has the flexibility to provide custom designed products to meet specific requirements. We strive to gain the respect and trust of our customers, suppliers and partner vendors, by providing distinctive quality products and unparalled customer service.
Our R & D is further supported by strong technical support team which is dedicated to serving customers requirements and providing complete solutions.
Accent Biotech offers your business an edge over competition by providing customised solutions.
Accent Biotech will back you up with
Technical information
Problem solving
Market information including best industry practices
Machine and process audit
Accent Biotech helps you configure the right mix of products and services for growth.
Product Range
Pretreatment
Colouration
Finishing
Enzymes
Speciality
Product
Product Description
Sequestering Agents
Skobax AQS Super
Concentrated dispersant and sequestering agent
Skobax AQS
Cost effective dispersant and sequestering agent
Skobax AQS-N
Neutral pH Cost effective sequestering agent suitable for Dyeing.
Skobax SDC Plus
Specially designed proton donor and dye bath conditioner and iron chelator
Acrol DBC
Speciality high temperature stable dye bath conditioner cum sequestrant.
Acrol MSD
Excellent Dispersing agent, protective colloid with high sequestering action.
Acrol VIT
Concentrated Dispersing agent, protective colloid with high sequestering action.
Acrol UD
An Ecofriendly, organic product for protonic treatment of textiles.
Wetting Agents
Skodal DW
Caustic stable low foam wetting cum deaerating agent.
Skodal OT
Powerful wetting and penetrating agent which offers high cost savings.
Skodal MW
Highly effective non-cresylic mercerising wetting agent.
Scouring Agents
Skodal D-JET
Low foam, APEO free scouring agent and detergent with rewetting properties.
Cygnus ECO
Detergent wetter specially designed for mild alkaline scouring of yarn and knits.
Skodal CBR 200
Detergent wetter specially designed for continuous preparation of cellulosic and blends.
Skodal CRD
Cost effective wetting and scouring agent for all types of fibres.
Skodal CRD Conc.
Speciality wetting and scouring agent for all types of fibres.
Skodal WAK
Cost effective wetting and scouring agent for yarn and winch.
Skodal CLS
Multifunctional speciality scouring agent based on clay
Skodal FSTR
Powerful wetting agent cum detergent for all types of fibres
Skodal HPSR
An efficient scouring and stain removing agent.
Defoamers
Skobil ND
Modified organo-polysiloxane based antifoam compound.
Bleaching Auxiliary
Skobil PS /PSM
Specially designed peroxide bleach bath stabilizer.
Skobil OPS
Organic peroxide bleach bath stabilizer.
Skobil CORE
Highly effective pH buffer for core alkali neutralisation.
Skobil PQ
Inorganic peroxide killer designed to neutralize residual peroxide.
Skobil KILL
Product designed to neutralize hypochlorite and alkali from the fabric
Desizing Agents
Acrol DOS
Highly effective oxidative desizing agents.
Anticreasing Agents
Skobil LUB
Universal crease inhibitor cum lubricant for knits processing.
Skobil ACA
Speciality emulsifier and anticrease lubricant
Product
Product Description
Dispersing Levelling Agents
Acrolev RDL Conc.
Concentrated levelling agent for reactive dyeing of cellulosics and blends
Acrolev RLM
Speciality levelling agent for reactive dyeing of cellulosics and their blends
Acrolev FBSF
Eco-friendly levelling and migration agent for disperse dyes.
Acrolev DFT
An effective levelling agent for dyeing of polyester and their blends with disperse dyes.
Acrolev DLP
Dispersing and levelling agent for disperse dyeing
Acrolev BRT
Speciality dyebath conditioner for sulphur dyeing.
Acrolev VLX
Universal leveling agent for Vat, sulphur and direct dyes on cellulosics.
Acrolev ACR
Versatile levelling agent for cationic dyes on acrylic
Acrolev SMK
Versatile levelling agent for dyeing of wool, silk and polyamide with 1:2 metal complex dyes.
Soaping Agents
Acrol RSN
Soaping off agent, Dispersing agent, protective colloid and complexing agent for reactive dyeing.
Acrol VIT
TDS stable Soaping, Dispersing agent, and protective colloid for reactive dyeings
Acrol RSH
Economical polymeric soaping agent for reactive dyeings.
Acrol DS
Washing off agent for disperse prints
Acrol DNVL
Reduction clearing assistant for disperse dyes
Fixing Agents
Acrofix NF
Non-formaldehyde dye fixing agent.
Acrofix DF
A cationic dye fixing agent for direct and reactive dyes.
Buffers
Acrobuff ALK
Specially designed alkali buffer to replace soda ash in reactive dyeing.
Acrobuff PBI
An acid buffer system specially developed for polyester dyeing
Acrobuff ECO
Specially designed organic buffering agent for dyeing of polyester and their blends.
Acrobuff PCB
Multipurpose Buffer for dyeing, printing and padding of disperse dyes on polyester.
Reducing Agents
Acrol RCX
Liquid reducing agent for reduction clearing of disperse dyestuffs in acidic pH.
Acrol MCL
A novel dispersing and washing off agent for disperse prints.
Acrol ST
Reducing agent for discharge printing of polyester and their blends
Oxidising Agents
Acrodye RA
Mild oxidising agent.
Acrodye DOX
Speciality oxidising agent for Sulphur and Vat dyes.
Oligomer Dispersant
Acrol OLG
Weight reduction catalyst with oligomer complexing properties.
Wetting Deaerator
Skodal NF
Wetting and deaerating agent for continuous and semi-continuous processes
| | |
| --- | --- |
| Product | Product Description |
| Kosbil SCX | A modified polymeric softener for excellent surface smoothness |
| Kosbil CWS | Cold water soluble cationic softener flakes. |
| Kosbil PET | APEO Free secondary polyethylene emulsion. |
| Kosbil PU | High molecular weight polymer for excellent bounciness and resiliency |
| Kosbil REACTI | Reactive softener. |
| Kosbil NIS | Nonionic, non-yellowing, scorch-resistant softener for cellulosics and their blends. |
| Kosbil SFC | Amphoteric, non-yellowing softener and antistatic agent. |
| Kosbil YL | Yarn lubricant containing secondary polyethylene and silicone. |
| Kosbil EPX | A modified polymeric silicone softener for achieving soft, silky and elastic handle |
| Kosbil AB | A premium shear stable softener for soft, silky and bouncy feel |
| Kosbil Elasto | Elastomeric softer for woven and knits. |
| Kosbil KVS | Excellent cross linking agent with built in catalyst for cotton and blends, based on DMDHEU resin |
| Kosbil ULF | Very low formaldehyde content cross-linking agent for easy-care finishing of cellulosics and blends |
| | |
| --- | --- |
| Product | Product Description |
| Biotiq HD Size Plus | Concentrated bacterial œ amylase enzyme for desizing of starch. |
| Biotiq HD Size | Cost effective bacterial œ amylase enzyme for desizing of starch. |
| Biotiq BPL Conc. | Concentrated acid cellulose enzyme for biopolishing |
| Biotiq PQ | Enzymatic bleach scavenger for removal of residual hydrogen peroxide |
| | |
| --- | --- |
| Product | Product Description |
| Eco Powder | Combination auxiliary for the bleaching of any type of cellulosics and its blends. |
| Ecodye | Revolutionary auxiliary for One Bath Scour-Dyeing of Medium & Dark Shades especially on Hosiery and Yarn |